Filter by Category
K-6th Grade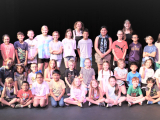 Online Registration Unavailable
Intersessional: Spring 2023 for K-6th Grade
with MCT Team

Feb 13, 2023 at 8:30 am

, runs for 1 week
Designed to coincide with MISD's 2022-23 intersessional calendar, MCT offers opportunities for students on break during these weeks a chance to grow creatively through theatre arts.  Your K-6th grade student's fine arts study will include acting & drama, arts & puppetry, dance & music.
Theatre School/Academy PERFORMANCE: for K-6th Grade
with MCT Team

Mar 27, 2023 at 4:15 pm

, runs for 5 weeks
HARE-RAISING TALES:  Working with scripts in a technically supported production, students will celebrate their year of theatre learning and collaboration as they perform stories centered around well-known rabbit characters and their exciting adventures.
RESTRICTIONS and REQUIREMENTS for Session IV:  In order to participate, you must also enroll in and attend Sessions I, II, and/or III.
Open to Theatre School and Academy students.  Not available for Pre-K or Centerstage students.
Students are required to audition to participate in Session IV, even if previously paid.
AUDITION DATES:  Friday, February 10, 2023, or Saturday, February 11, 2023
PERFORMANCE DATE:  Saturday, April 29, 2023.  Time to be determined